OUR FOUNDER TATTOOED THE ALLIES LOGO, FOR A REASON
"I founded ALLIES to create supercharged skincare formulas that deliver maximal results, in minimum steps. Our values reflect those of a company I started with my desire to feel good in my own skin, and the commitment I took to encourage this feeling in others. I tattooed the logos of my company on my skin, so I can always look at it and never forget why I started."
ALLIES

FORMULA
G121920A
1.357107 103.8194992
OUR ORIGIN STORY
TRIGGER WARNING: Video includes references to depression, domestic abuse & suicide.
In his own words, our founder, Nicolas Travis, shares his life story. We encourage our Allies to watch this video and learn not only how Allies of Skin came to be, but how the brand saved his life, shaped our core values, and solidified our vision to make beauty more human.
OUR FOUNDER'S STORY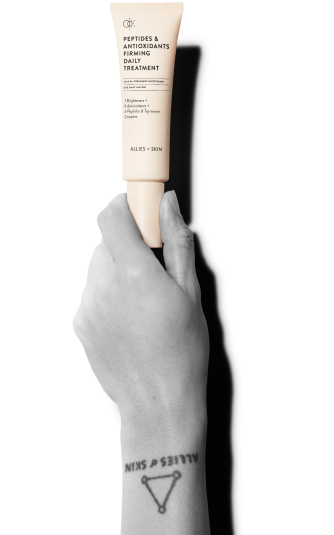 OUR FOUNDER'S STORY
I was inspired to start ALLIES after I had a tragic accident that resulted in devastating facial injuries and multiple infections. Overcoming my fears, and accepting myself has been a lengthy journey that's taken several years.
I knew that if I was having these feelings about my skin, others would have similar feeling too. So, if I could help just one person feel better about themselves through their skin, then my painful experience would have been worth something.
Over the last decade, I've developed and iterated on formulas, combining and experimenting with new active ingredients, and finding the right balance and amount of each one. What began as three original products has grown into an entire range to fit every step of your skincare routine.
While we continue to break the rules of formulation, our product ethos of precision and quality remains the same. We never compromise on our products, ensuring that each one has gone through multiple rounds of rigorous testing before they're launched.
IF YOU ARE UNHAPPY WITH YOUR ORDER, please reach out to ask@allies.shop and someone will help make it right. Thank you so much for trusting us with your skin.
Always,
NICOLAS TRAVIS